Standard "off the shelf" Training Dumbbell – with a 4 ft wheel. Prices as from 1st January 2020.
This product was developed by our company to simulate the feel of a 3.5cwt tower bell, hung for full circle change ringing. It is ideal for teaching bell handling or for use in conjunction with a computerised ringing simulator.
Physical dimensions: 5 feet (153cm) tall – 4 feet (120cm) long – 14 inches (36cm) wide. Dead weight of dumb bell and frame: 2.7cwt. Approx. max horizontal force 670N (151lb). Approx. max vertical force 1642N (369lb).
Dimensions including a free standing tower - 12ft 6 inches (317cm) tall (including training bell).
This training bell is fabricated from steel with a hot-dip galvanized/Painted finish. It is ideal for installation as an independent unit or could be hung from an existing bellframe or foundation beam. It is very robust and does not require a breakable stay. The stay and slider mechanism is simply a loop of rope which engages with a robust steel toggle and can be easily replaced if it becomes worn/broken. As built, the standard model turns fractionally slower than a conventional bell, but our customers advise us that this is beneficial when teaching basic bell-handling. Additional weight plates can be supplied to correct this if required.
We endeavor to keep a stock of standard sized training bells available for immediate dispatch.
Cost of our standard training dumbbell, complete with frame and fittings £1970 + VAT.
Optional extras:
Electronic hook up (for a single bell) ready to plug & play £99 (USB connection) available direct from David Bagley so no VAT on these).
Traditional bell rope with pre-stretched polyester top end 2' 6" sally (Choice of colours) - £160 + VAT.
Steel tower/stand to support your dumbbell from a solid floor - £1842 + VAT.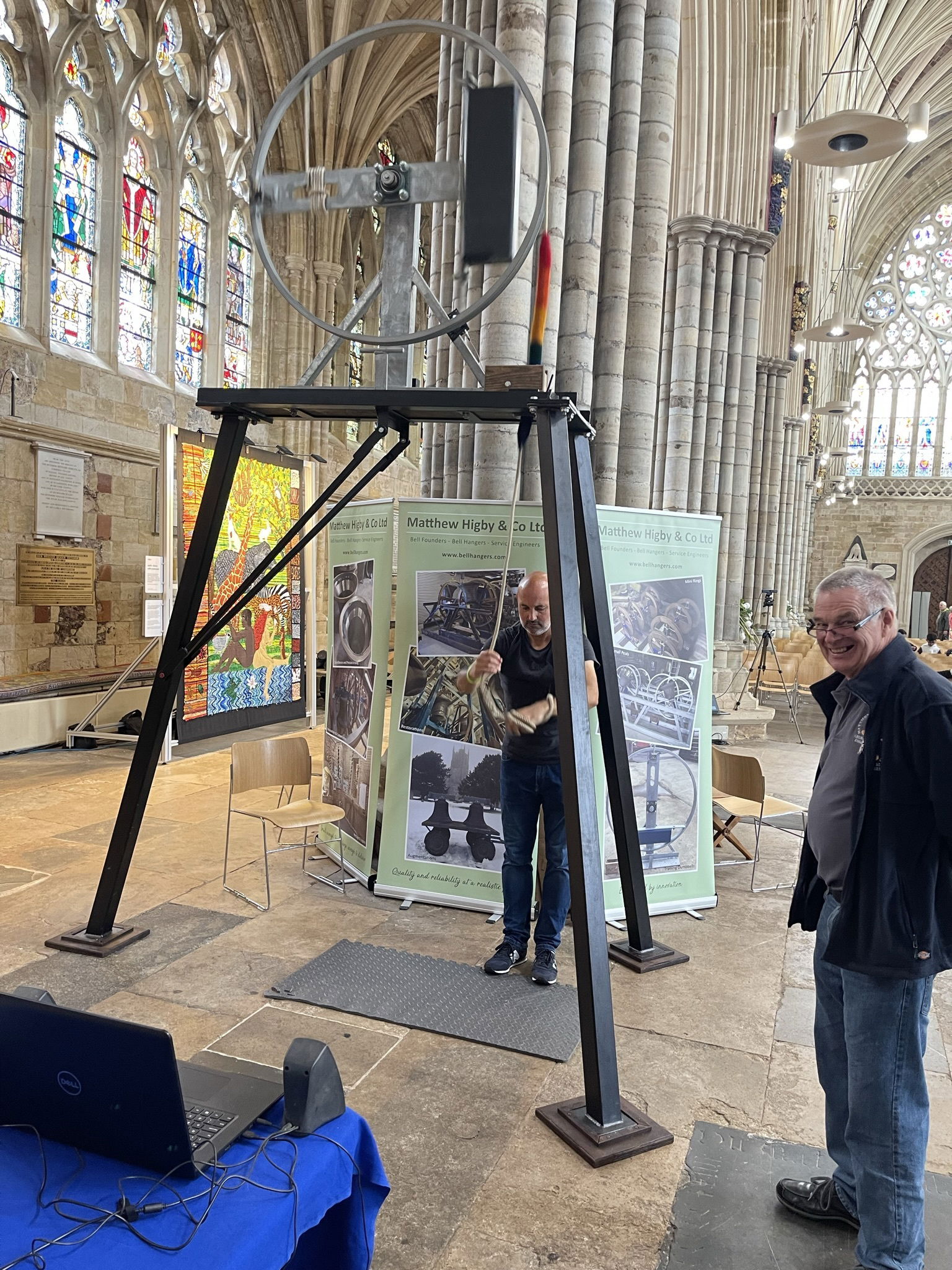 One of our training dumbbells mounted on a steel support stand - as displayed in Exeter Cathedral, July 2022.
Additional "bolt on" weight plates - £71 + VAT.
All prices are ex-works. Quotes for crating/shipping/installation can be supplied.
Other (non standard) sizes.
Our training dumbbell sizes and weights can be adjusted to align with the wheel sizes and turning speeds of an existing ringing peal if required, to simulate an augmentation. Graded sets can also be supplied to simulate a complete peal of bells. Please contact us for further details and prices.